WARZYWA, PRZYPRAWY I OWOCE TAJLANDII - 2009 - VEGETABLES, SPICES AND FRUITS OF THAILAND
Podczas trzytygodniowego pobytu w Tajlandii w grudniu 2008 szczególnie interesowały mnie targi i sprzedawane na nich warzywa. Wiele z gatunków to rośliny dzikie albo pół-dzikie. Poniższe zdjęcia pochodzą z targów z południa Tajlandii - głównie Bangniang i Takuapa - w prowincji Phangnga, ale większość z gatunków jest w sprzedaży w całej Tajlandii. Wiele roślin udało mi się oznaczyć dzięki, następującym osobom: prof. Chusie Trisonthi (Chiangmai University), Nat Bletter (University of Hawaii) i i Wojciechowi Szymańskiemu (Uniwersytet Jagielloński).
During my December 2008 holidays in Thailand I visited a few markets in the south of the country (mainly Bangniang and Takuapa). I was amazed by the choice of plant foods! I would like to thank prof. Chusie Trisonthi (Chiangmai University), Nat Bletter (University of Hawaii) and Wojciech Szymański (Jagiellonian Uniwersity, Kraków) for help in the identification of plants.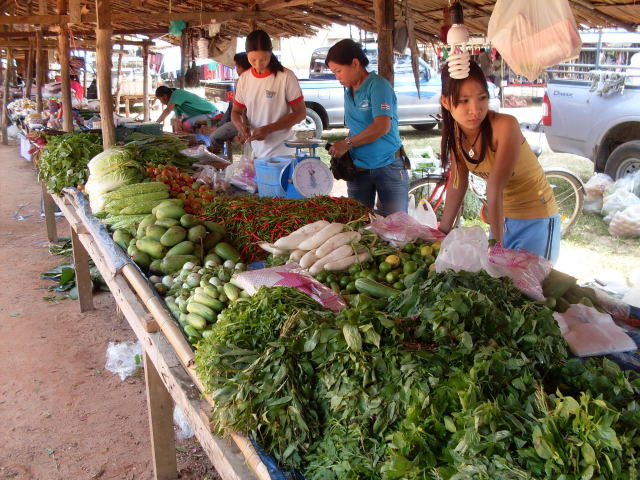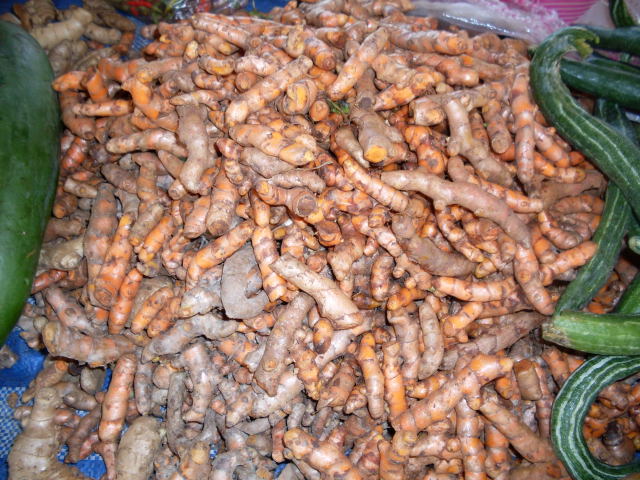 Curcuma longa - Krachieo - Kłącza kurkumy. Turmeric rhizomes.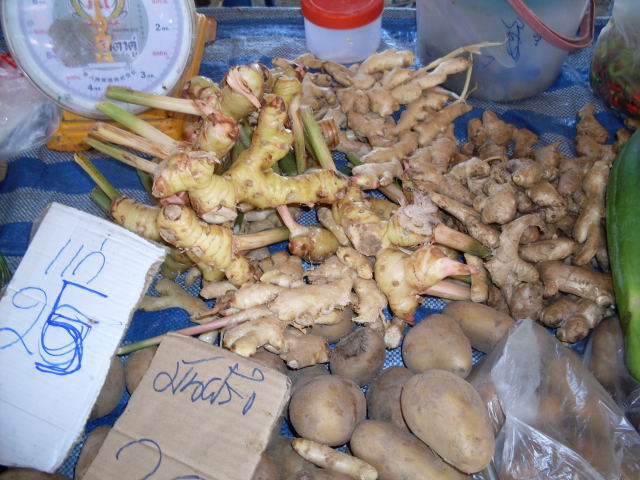 Po lewej galangal, po prawej imbir. Galangal on the left, ginger on the right.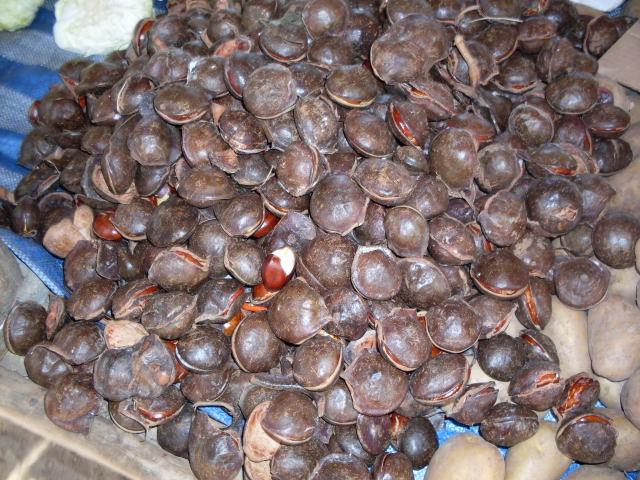 Djenkol tree - Archidendron jiringa Nielsen - Cha niang. Te owoce to po ugotowaniu popularny składnik curry, na surowo trujący. These fruits are a common curry ingredient, after boiling. Poisonous when raw.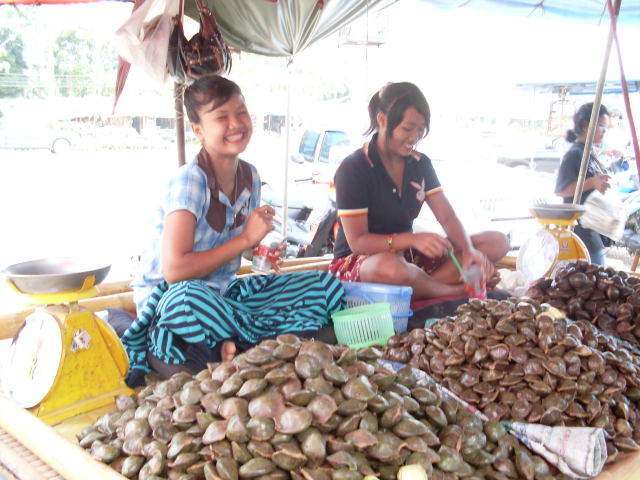 Na lewo kwiaty lotosu. Na prawo coccinia. On the left - lotus flowers, on the right - coccinia.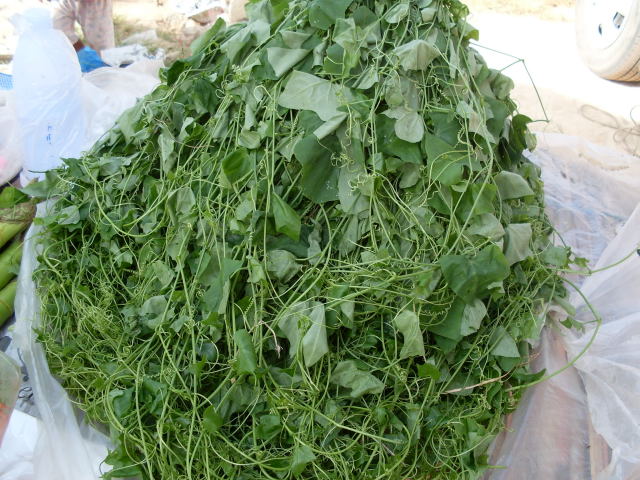 Coccinia (Phak tamlueng), Cocinia grandis Voihlt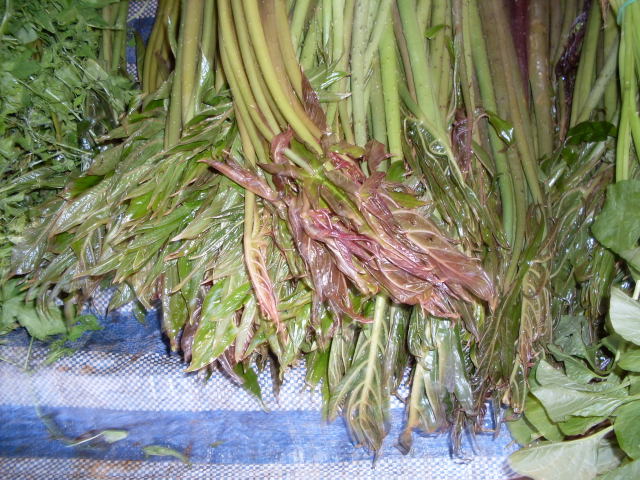 Lasia spinosa (Araceae)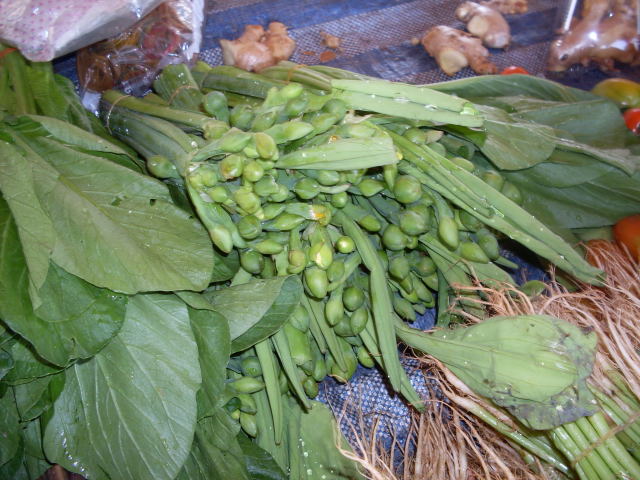 Dzikie warzywo wodne Limnocharis flava. A wild water vegetable - Limnocharis flava.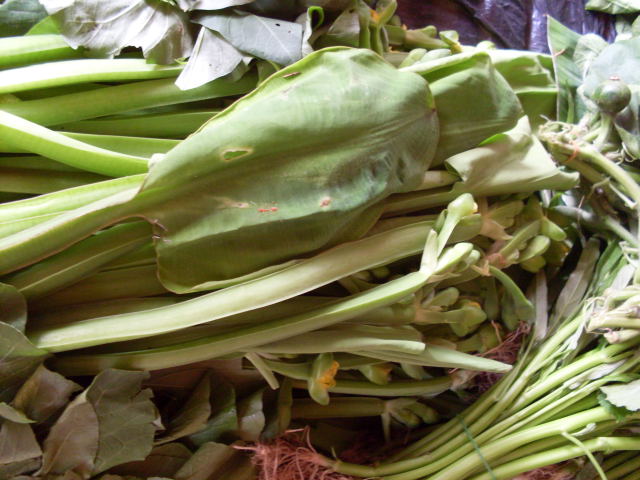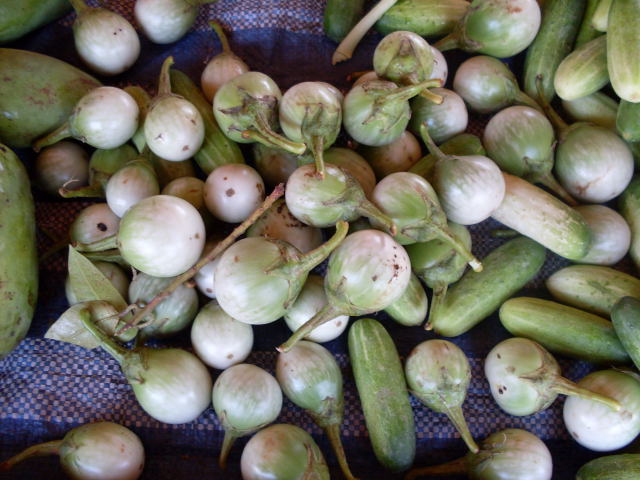 Bakłażany (Solandum melongena). Aubergine (Solanum melongena).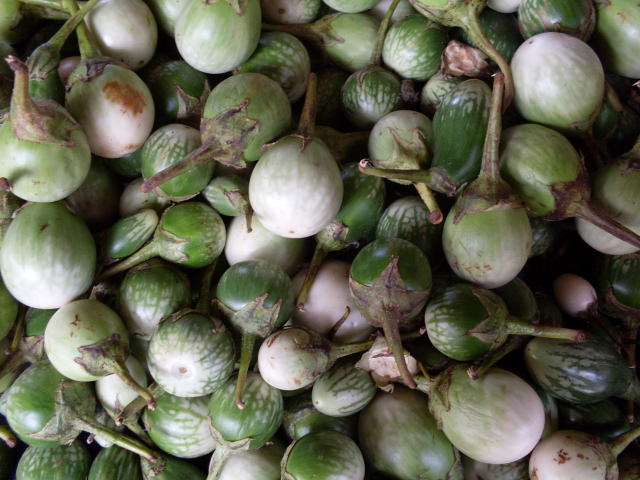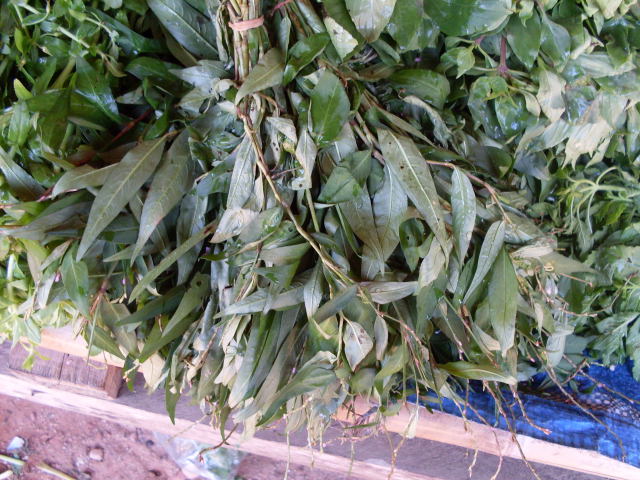 Rdest Polygonum sp.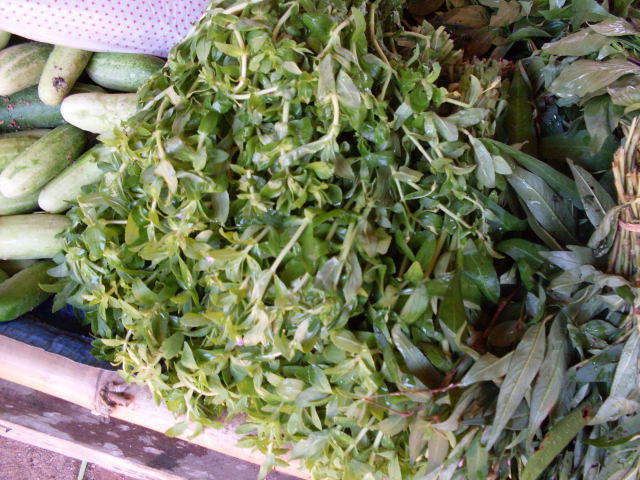 Limnophila aromatica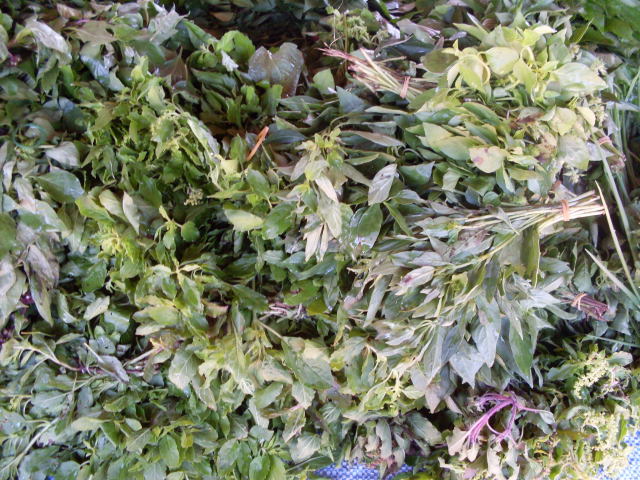 Rodzaj bazylii - Probably lemon basil, มังลัก menglat (Thai), Phak itoo (Lao), Ocimum americanum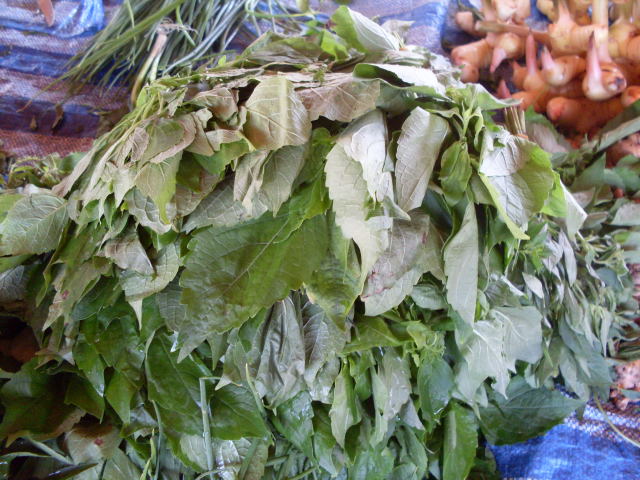 Perilla frutescens ?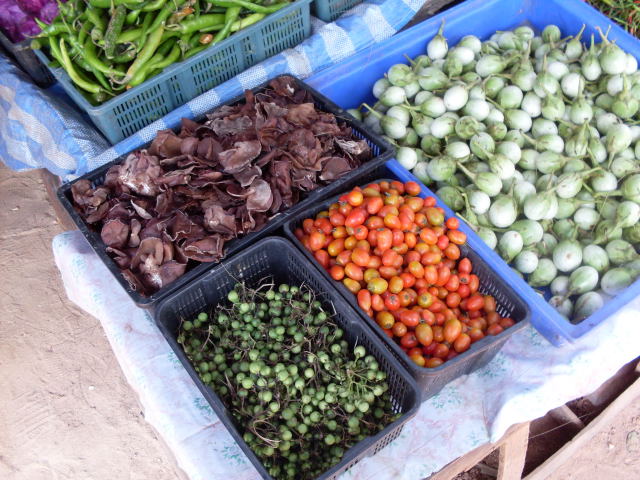 Ma khua phuang (Solanum torvum L.). Tajskie bakłażany. Thai aubergine = torvum eggplant.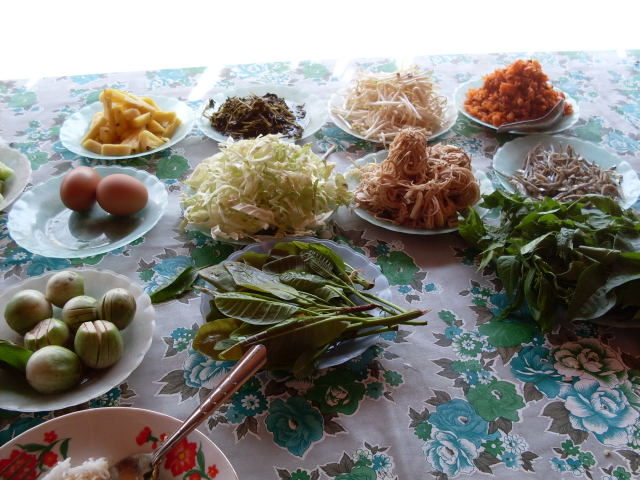 Khanom chin namya (Thai: ขนมจีนน้ำยา) - popularne danie śniadaniowo-obiadowe: makaron ryżowy, odrobina ostrego sosu, surowe liście, ananasy, suszone rybki i inne przekąski. Khanom chin namya (Thai: ขนมจีนน้ำยา) - round boiled rice noodles topped with various curry sauces and eaten with fresh leaves and vegetables.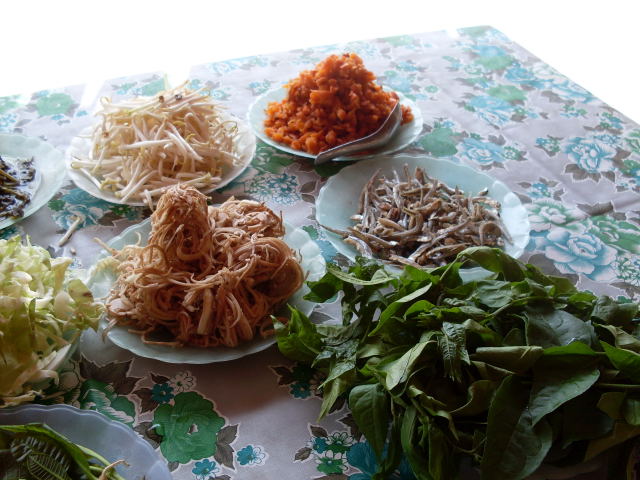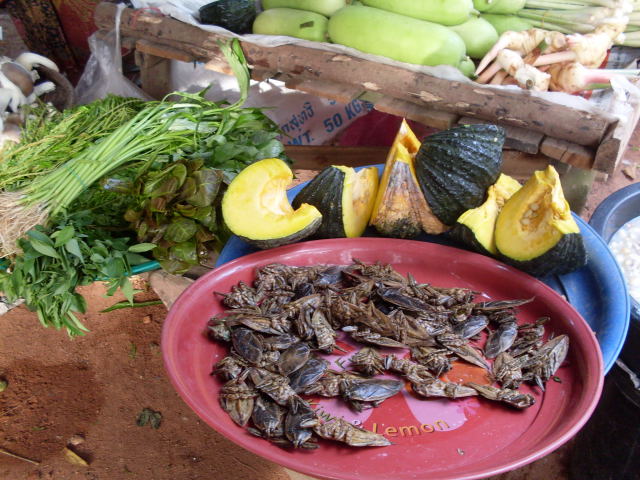 Lethocerus indicus - wielkie owady wodne często sprzedawane na targach. U góry (zielone, długie) - Benincasa hispida, u dołu - dynia olbrzymia (Cucurbita maxima). Giant water bugs often sold in markets. Above - wax gourd ( Benincasa hispida), below - pumpkin (Curcubita maxima)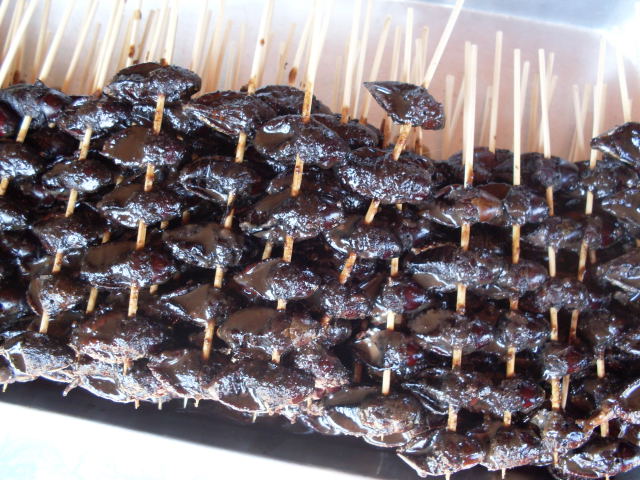 Cycady na targu Some other edible insects, in soy sauce and sugar.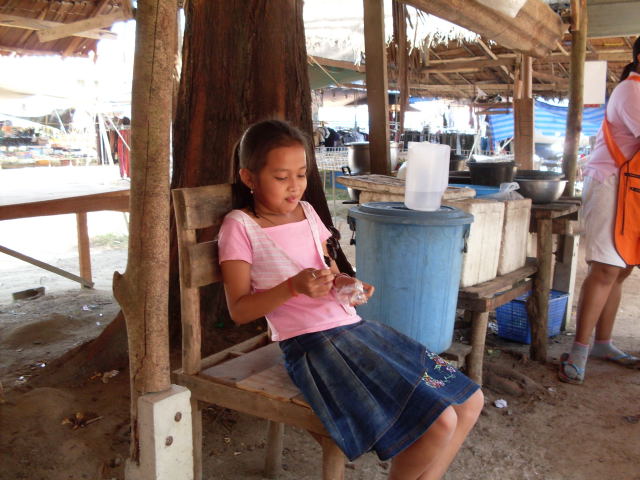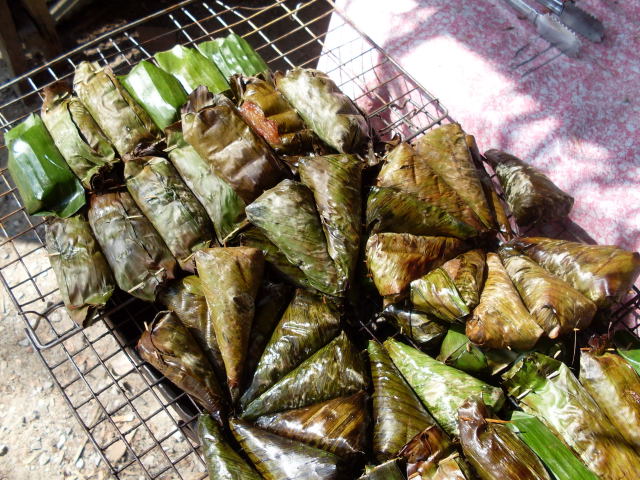 Ryż z bananami w liściach bananowca. Rice and bananas in banana leaves.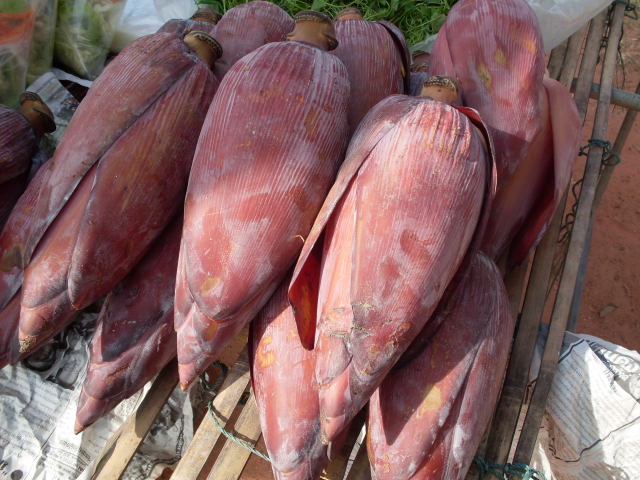 Kwiaty bananowca to popularne warzywo. Banana flowers are a common vegetable.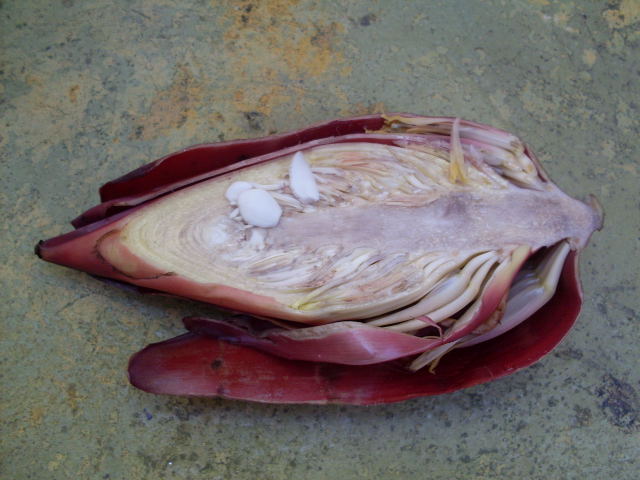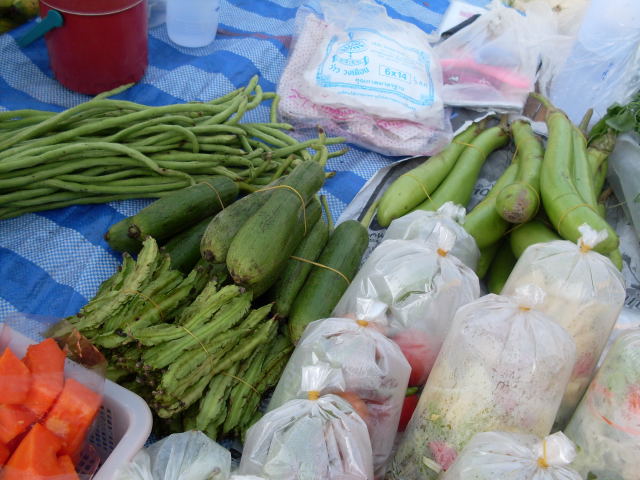 Bakłażany (Solanum melongena), trukwa ostrokątna (Luffa acutangula) i Psophocarpus. Z lewej u góry fasolnik chiński Vigna unguiculata subsp. sesquipedalis, po tajsku thua fak yao (ถั่วฝักยาว) in Thai Aubergine (Solanum melongena), angled luffa (Luffa acutangula), and winged bean (Psophocarpus sp.). On the left top Vigna unguiculata subsp. sesquipedalis, the yardlong bean, thua fak yao (ถั่วฝักยาว) in Thai.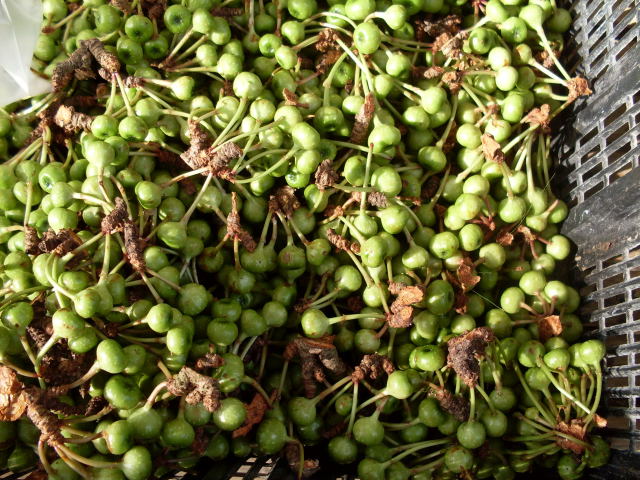 Owoce jakiegoś figowca (Ficus sp.). Some fig species (Ficus sp.)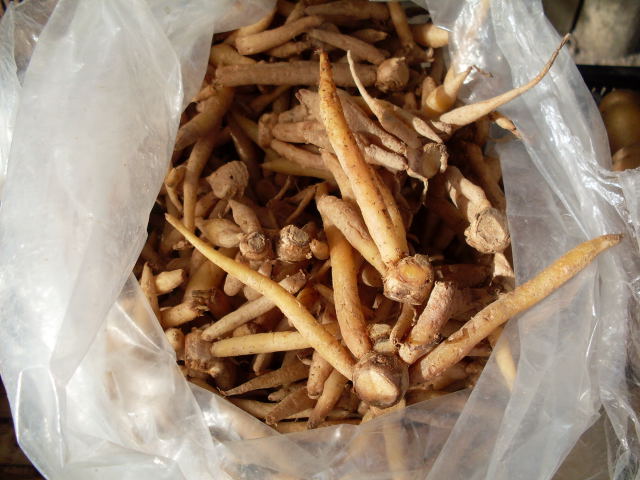 Kamfer - Boesenbergia pandurata Holtt. -Kra chaai. Krewniak imbiru, popularny składnik curry. A relative of ginger, a popular ingredient of curries.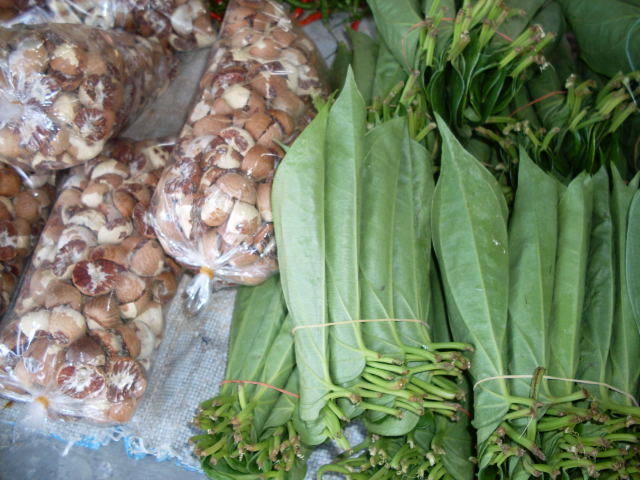 Składniki betelu: orzechy palmy Areca catechu i liście pieprzu Piper betle. Components of betel: Areca catechu nuts and Piper betle leaves.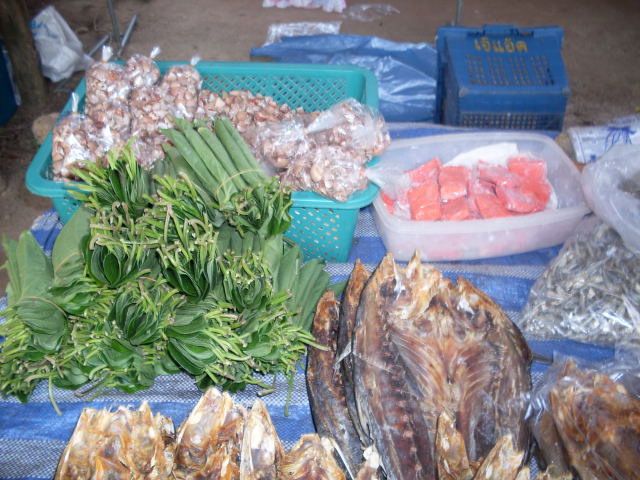 Tutaj to samo co wyżej, widać jeszcze woreczek z wapnem i przyprawami, konieczne do żucia. As above, plus a bag with lime and spices, necessary for chewing.

Areca catechu. Orzechy palmowe. Palm nuts.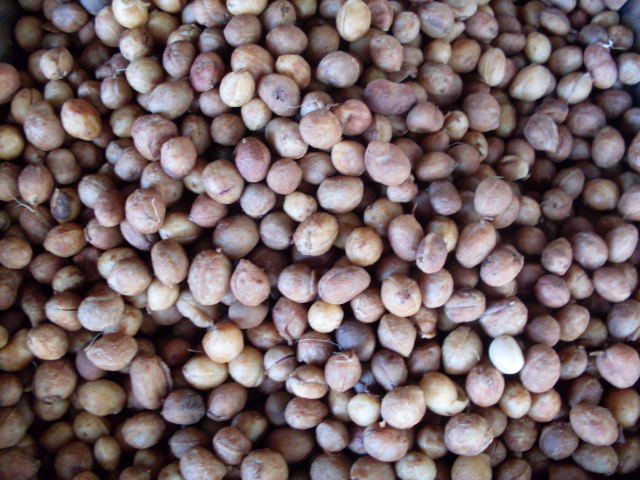 No 6 ???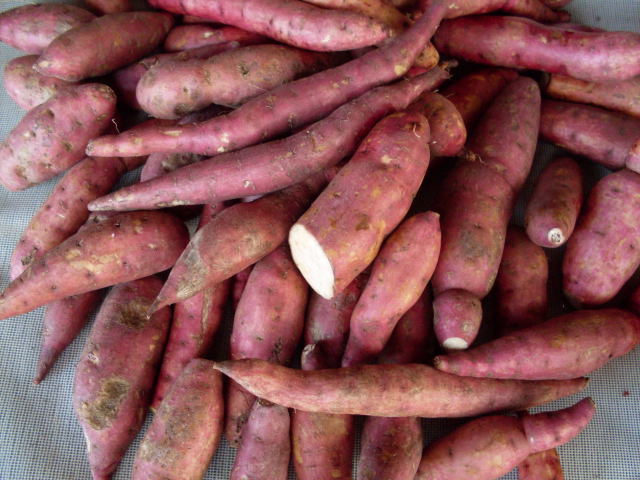 Chyba korzenie manioku jadalnego (Manihot esculenta Crantz), a może to bataty? (sprzedawca twierdził że to maniok, choć mi kolor nie odpowiada.. . Cassava roots? Sweet potatoes?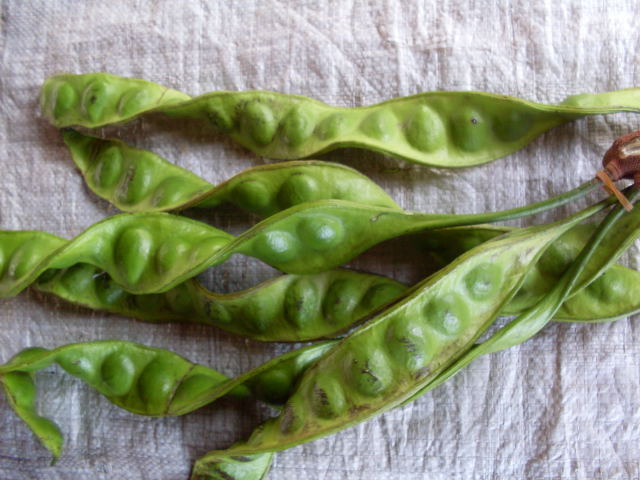 Nitta tree - Parkia speciosa Hassk - Sator. Strąki tego drzewa są jadane jako warzywo. Tree pods used as vegetable.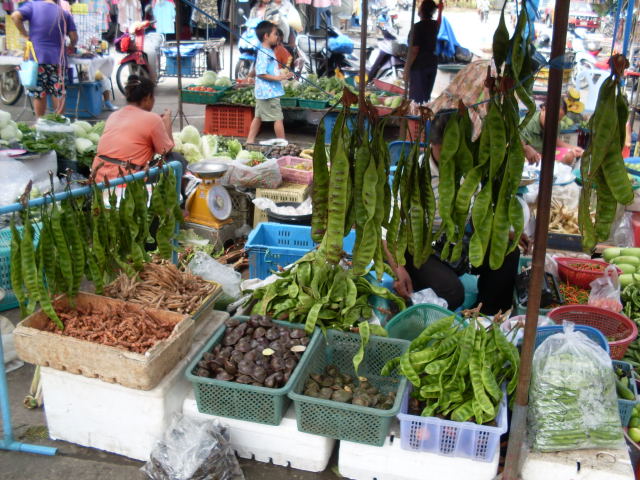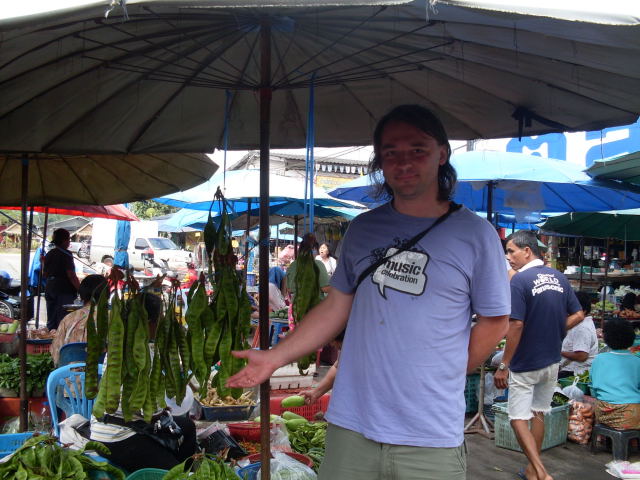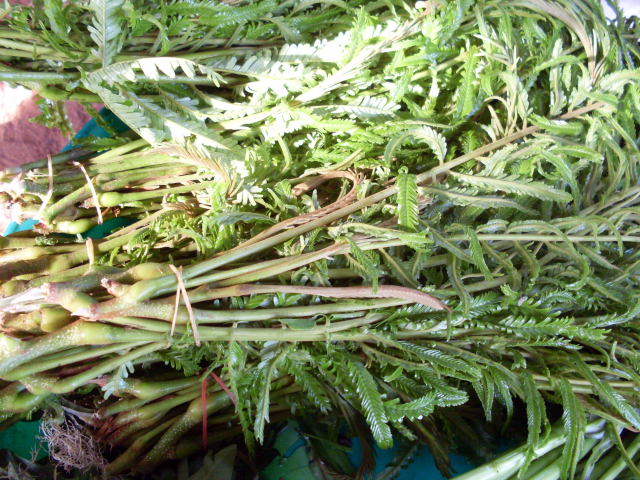 Przypuszczalnie to są liście Parkia speciosa? Probably Parkia leaves?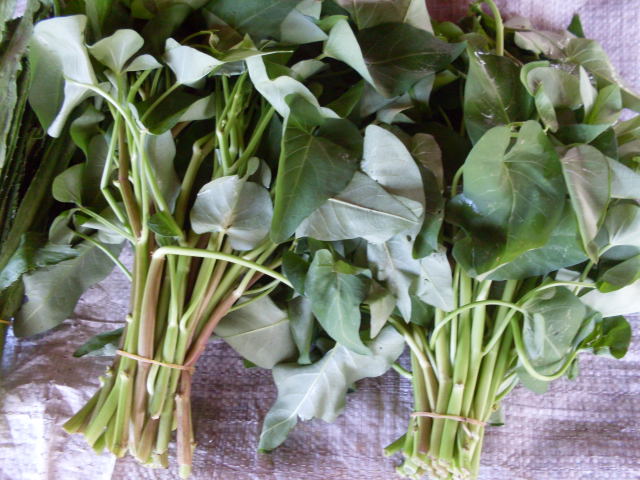 Kangkong (Ipomoea aquatica Forsskal.) to jedno z pospolitszych warzyw tajskich, smakuje jak szpinak. Kangkong (Ipomoea aquatica Forsskal.) Kangkong is also known as water convonvulus, water spinach or morning glory. It is a common vegetable in Thailand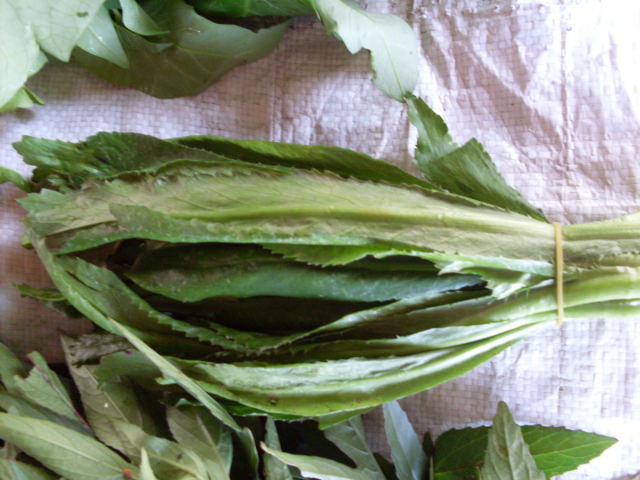 Liście Eryngium foetidum L. mają piękny zapach. Eryngium foetidum L. leaves are very fragrant.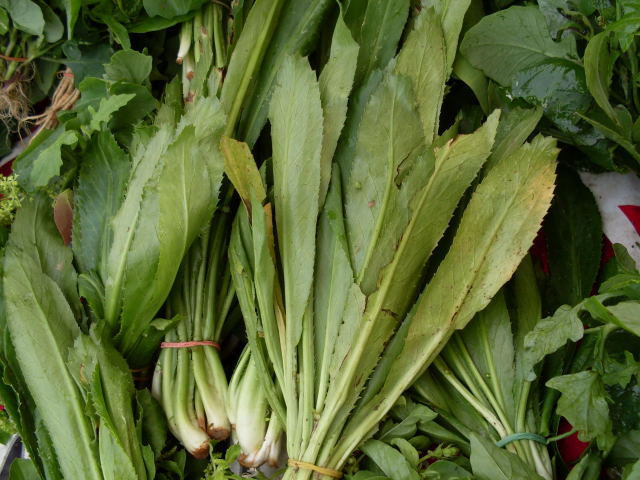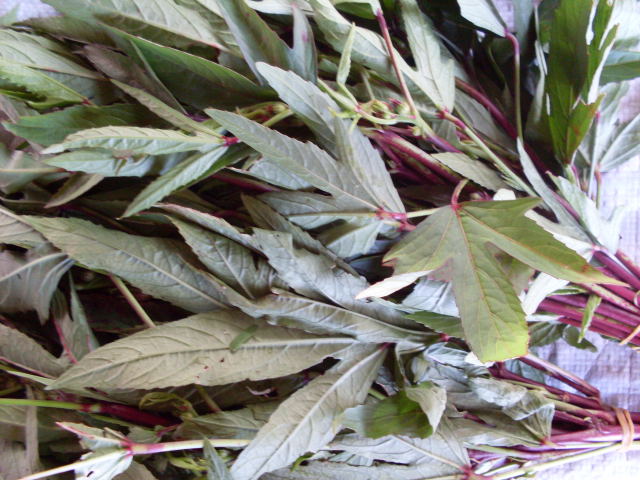 Chyba/probably Abelmoschus manihot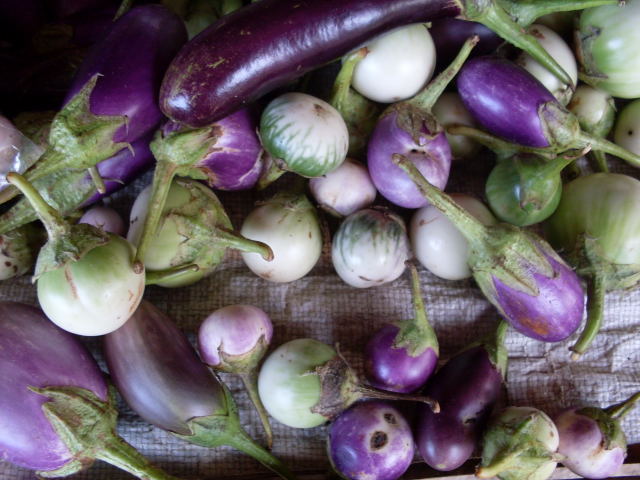 Różne bakłażany. Various aubergines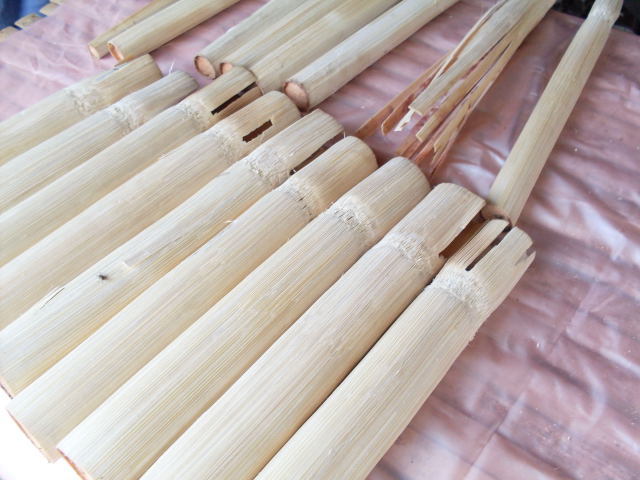 Ryż w bambusie. Rice in bamboo shoots.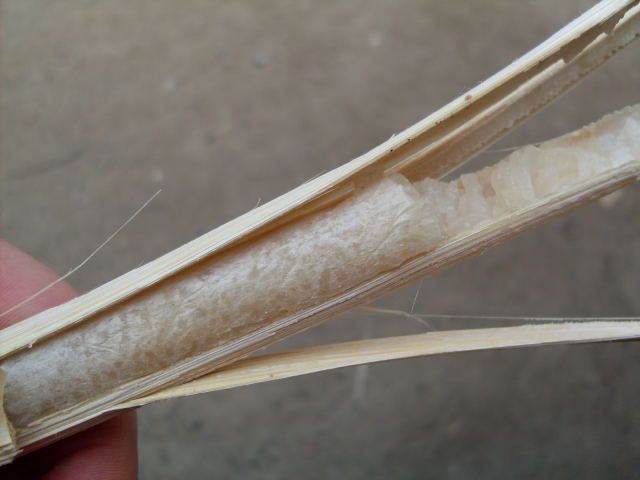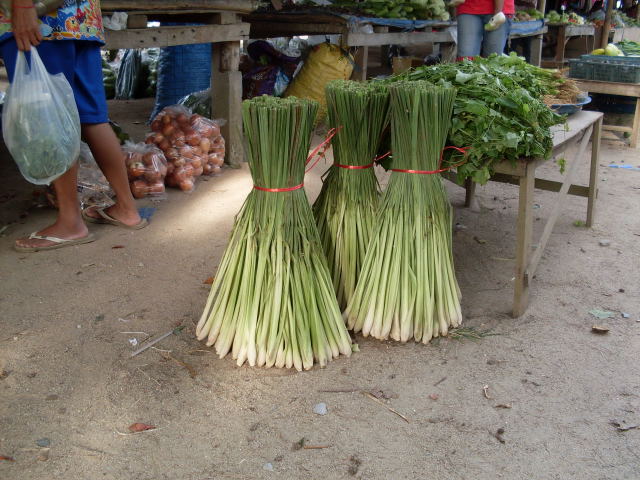 Trawa cytrynowa - podstawowa przyprawa tajska. Lemon grass - the main Thai herb.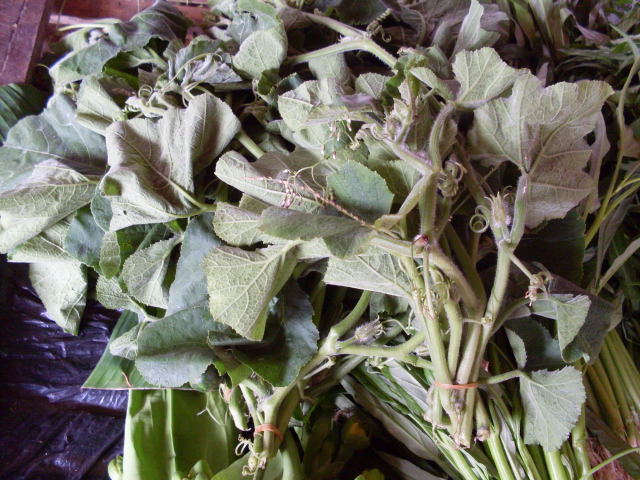 Liść dyni - Cucurbitaceae leaf - probably/przypuszczalnie bai fak, Cucurbita pepo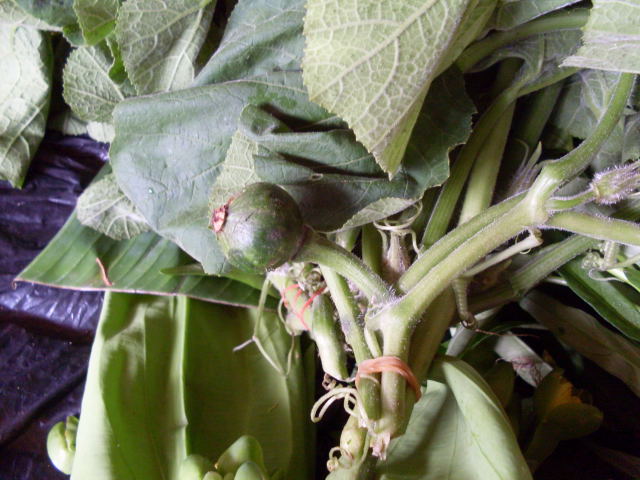 Też coś z dyniowatych - also something from Cucurbitaceae.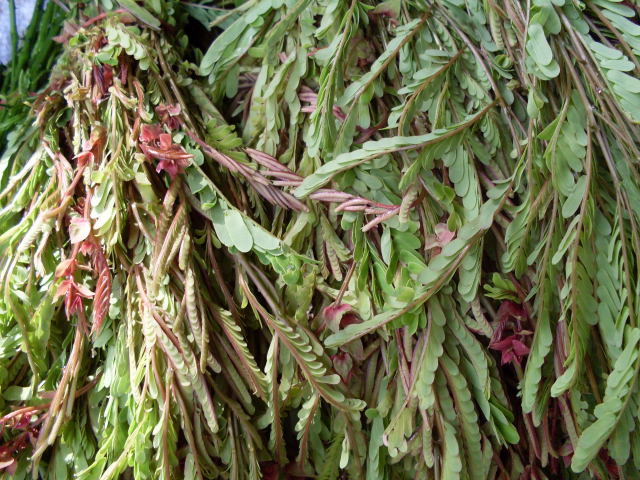 Kassod tree - Cassia siamea Britt - Kheelek. Liście drzewa jako warzywo. Tree leaves as a vegetable.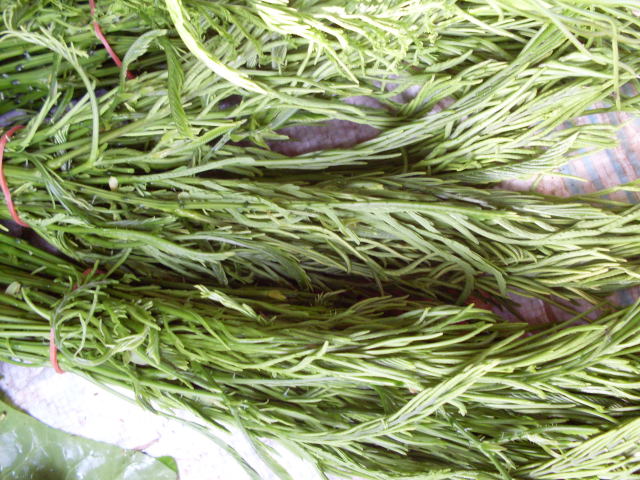 Acacia pennata?

Produkcja soku trzcinowego. Sugar cane juice production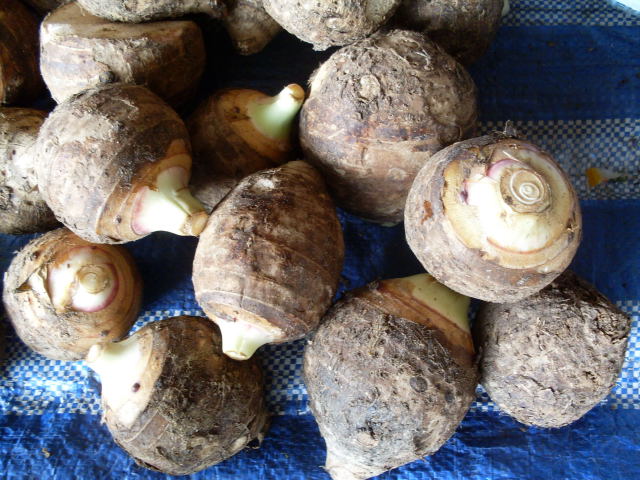 Taro (Colocasia esculenta).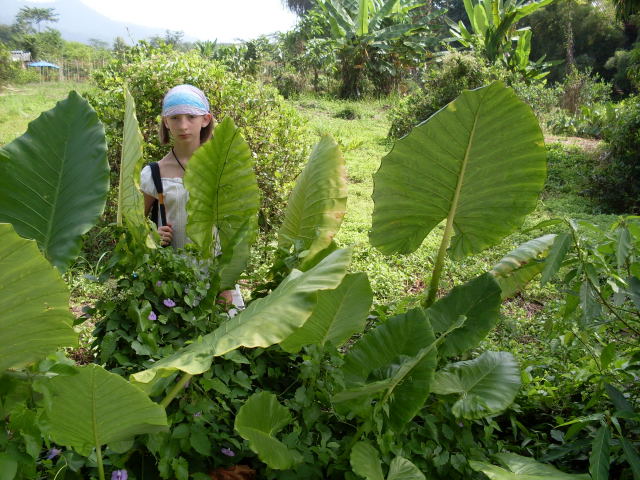 A tu sama roślina taro. The taro plant.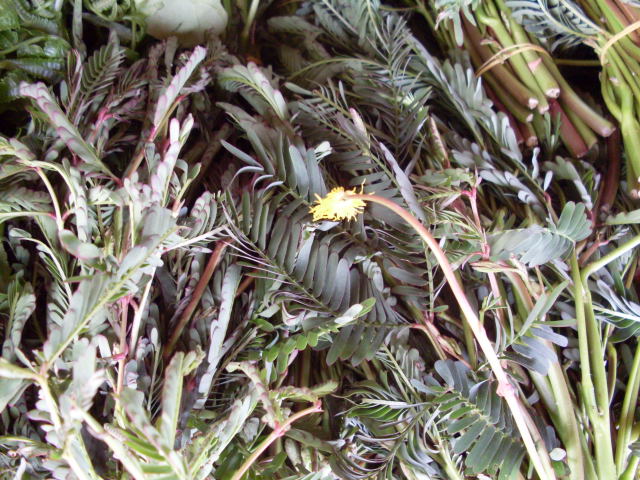 Zuek (Albizia lebbeck Benth.)? Liście drzewa używane jako warzywo. Leaves of a tree.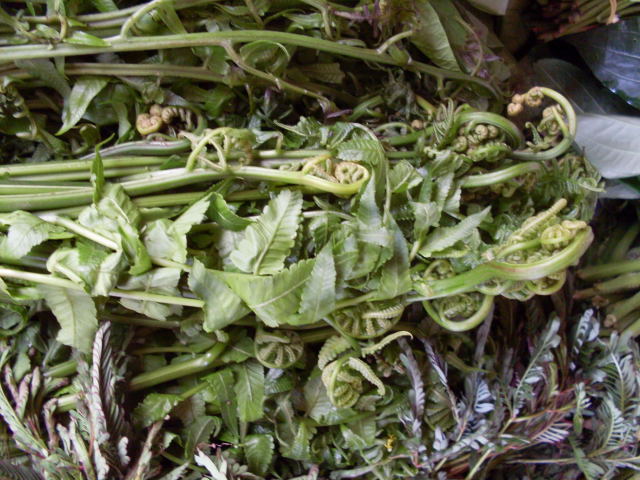 Paco (fern) - Diplazium esculentum S.W. - Phak kuut. Jadalna paproć. Edible fern.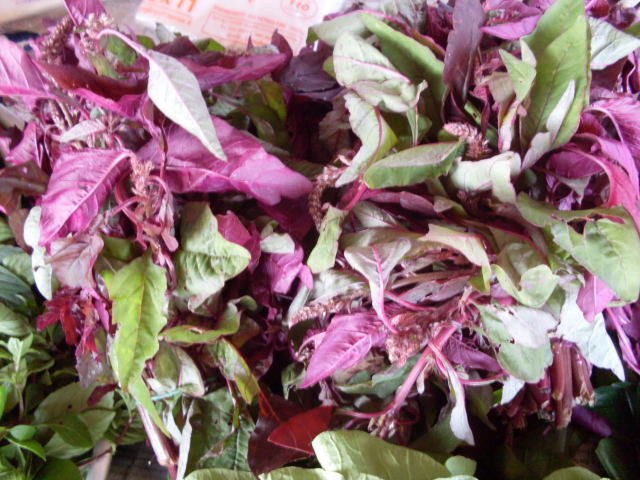 Coś z Amaranthaceae lub Chenopodiaceae, przypuszczalnie jakiś szarłat (Amranthus). A plant from Amaranthaceae or Chenopodiaceae, probably Amaranthus sp.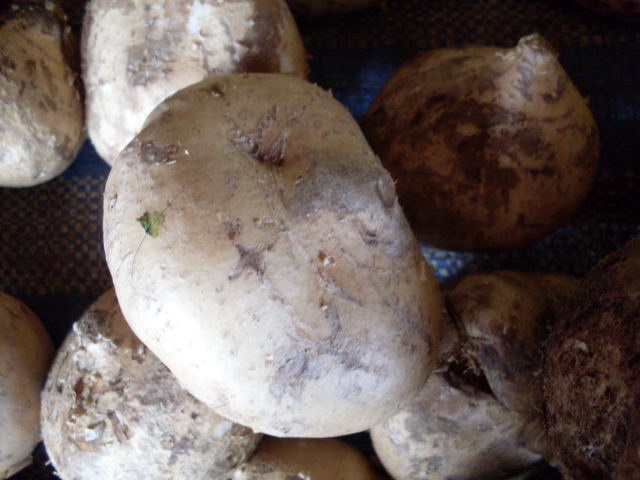 Jicama - Pachyrhizus erosus (L.) Urb. Zgrubiałe korzenie tego meksykańskiego pnącza można jeść na surowo. The fleshy roots of this Mexican vine can be etaen raw.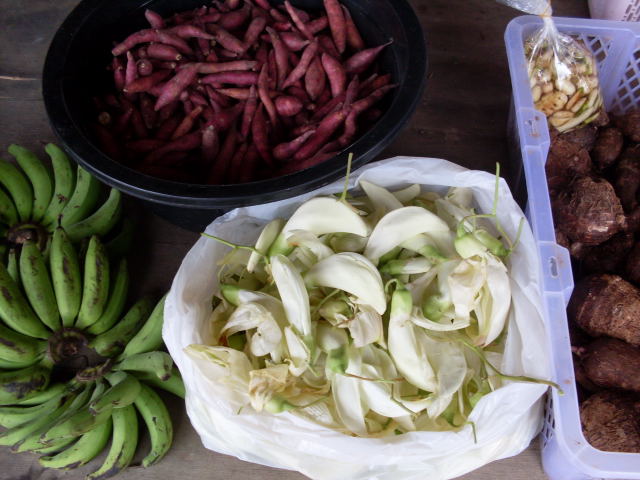 Sesban tree - Sesbania grandiflora Desv. - Khae baan. Kwiaty tego drzewa używa się jako warzywo po usunięciu słupków. Flowers of thisi tree are used as a vegetable after removing stamens.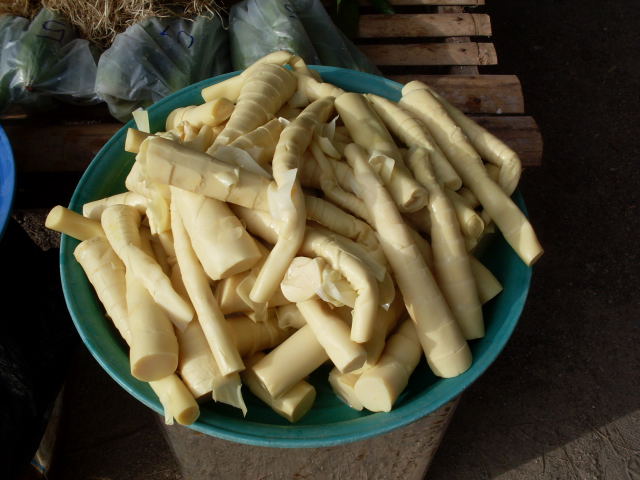 Pędy bambusa. Bamboo shoots.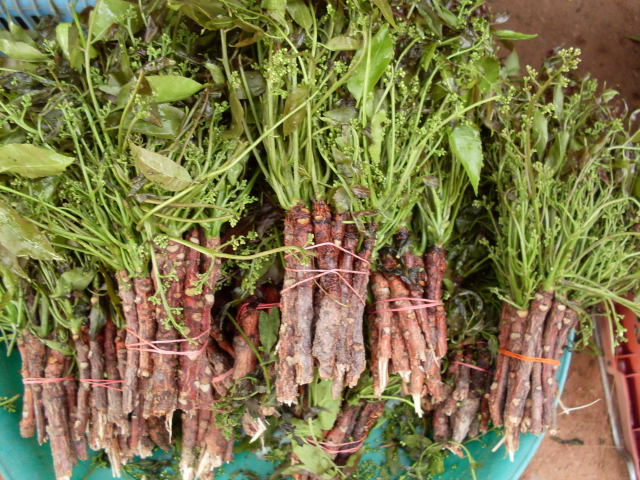 Jakiś gatunek szarłatu Amaranthus sp.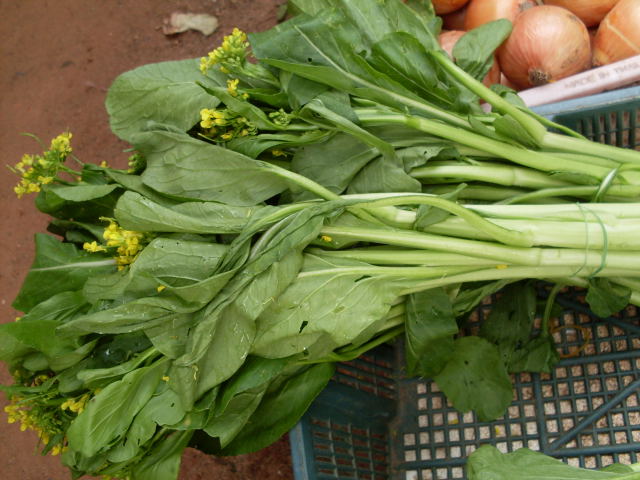 Coś z kapustowatych. Some cabbage vegetable.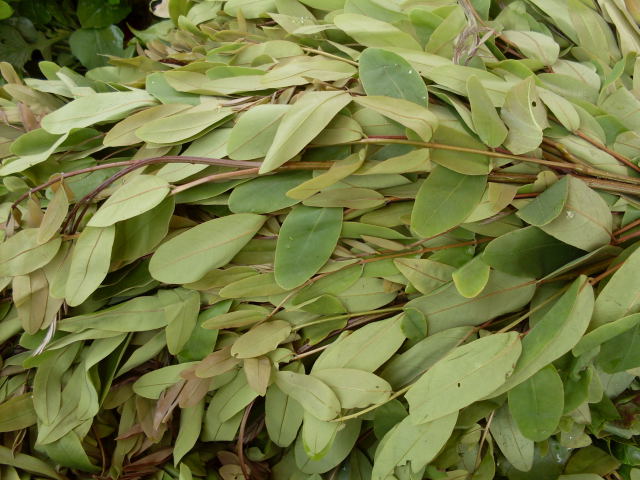 Dwa powyższe zdjęcia to phak samek ​ສະ​ເມັກ (po laotańsku) / phak samet, เม็ก (po tajsku), Syzygium gratum (Wight) S.N. Mitra, Myrtaceae i phak tiu ติ้ว, Cratoxylum formosum lub C. cochichinense, Myrtaceae, ale trudno je odróżnić.
the photos above are phak samek ​ສະ​ເມັກ (Lao)/phak samet, เม็ก, Syzygium gratum (Wight) S.N. Mitra, Myrtaceae and phak tiu ติ้ว, Cratoxylum formosum or C. cochichinense, Myrtaceae, but I have trouble telling them apart.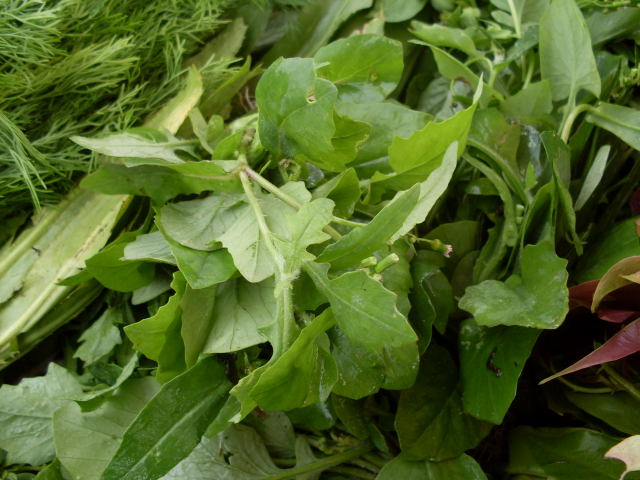 Asteraceae może/maybe Galinsoga sp.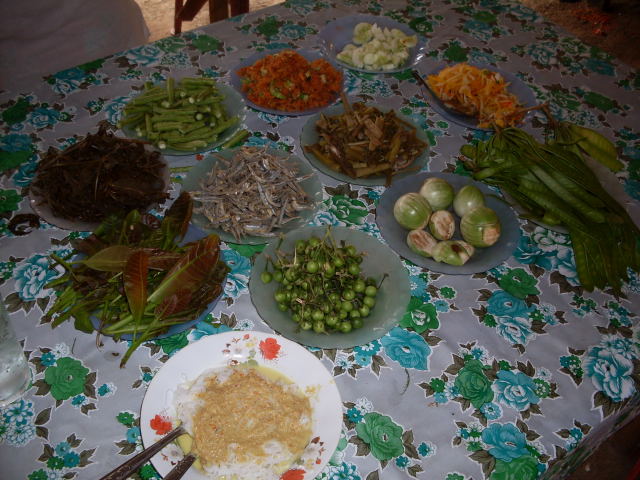 Znowu zestaw Khanom chin namya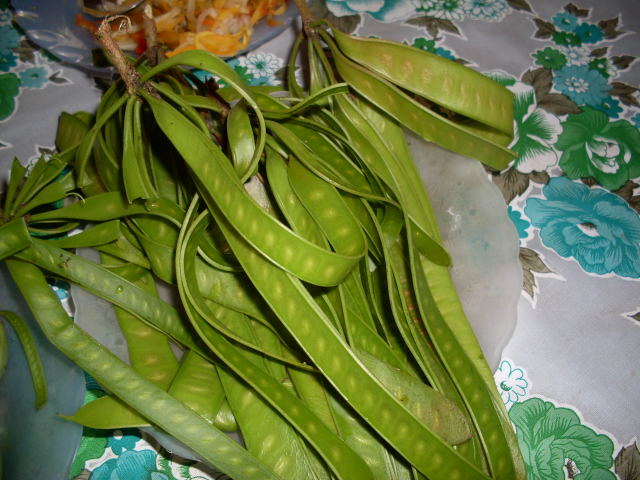 Ipil-ipil (Lead tree) - Leucaena leucocephala de Wit -Kra thin Thai ???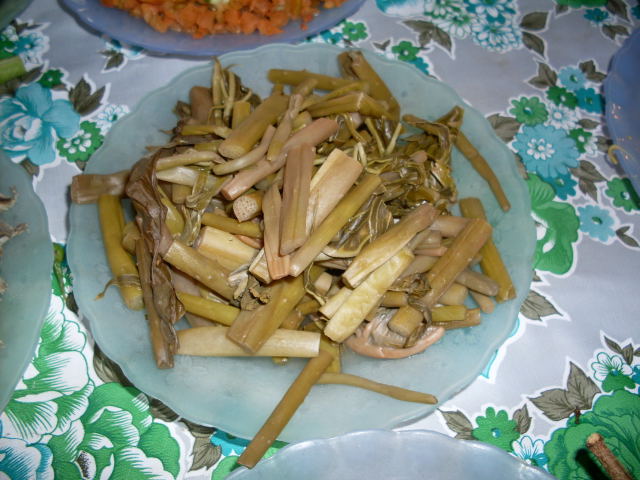 Łodygi lotosu lub grzybienia? Lotus or Nymphaea stalks?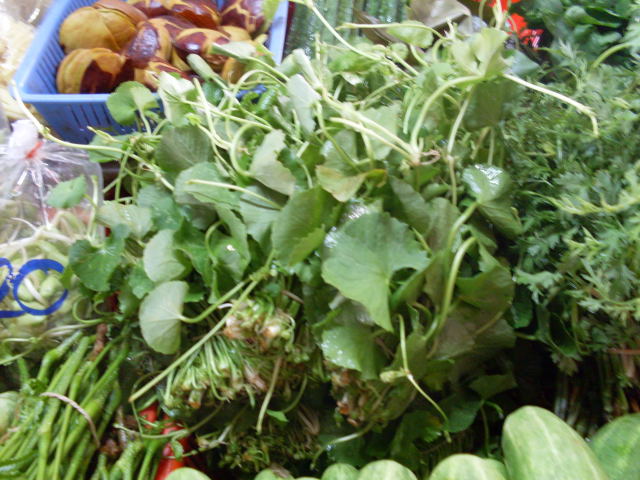 Asiatic pennywort - Centella asiatica Urban - Boa bok.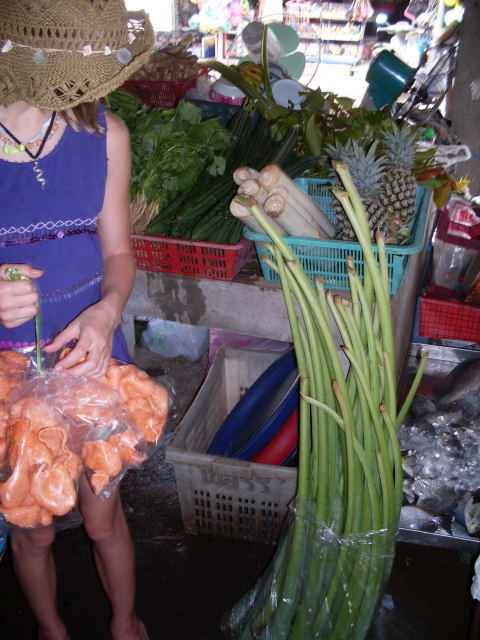 Łodygi Phueak (taro lub pokrewnego gatunku) siekane do zupy. Stems of Phueak (taro or a close relative) used chopped in soups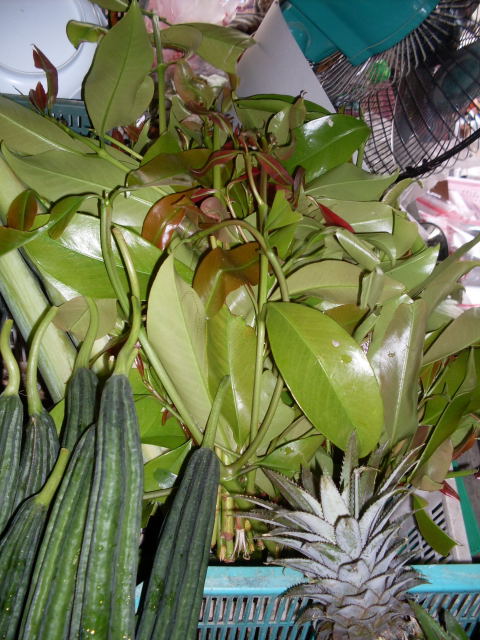 Warzywo z rodziny Clusiaceae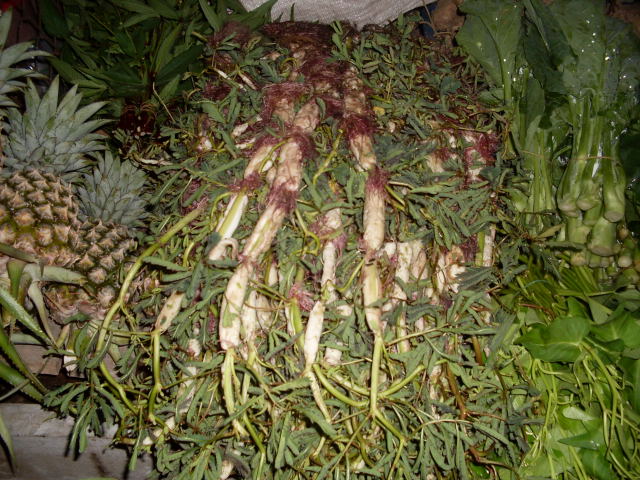 Water mimosa - Neptunia oleracea Lour. - Phak krachet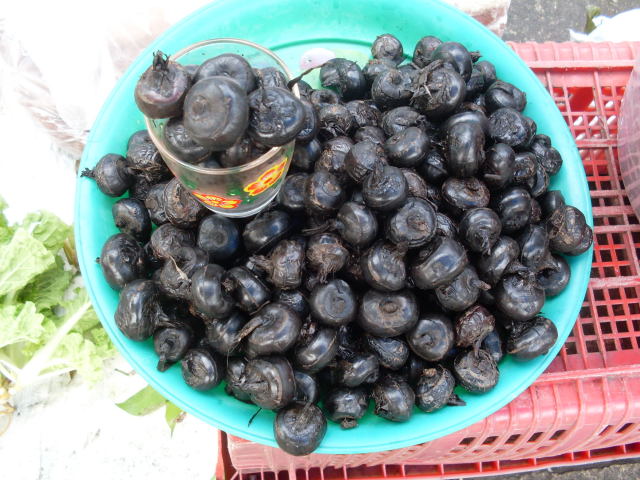 Water chestnuts (Eleocharis dulcis) - orzechy wodne z rodzaju ponikło, nie mylić z kotewką!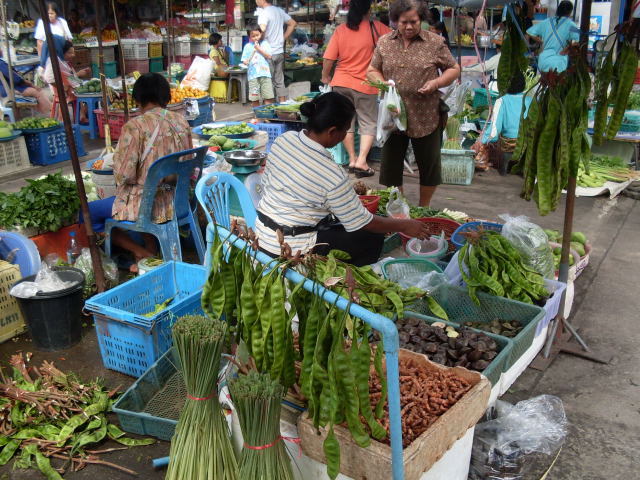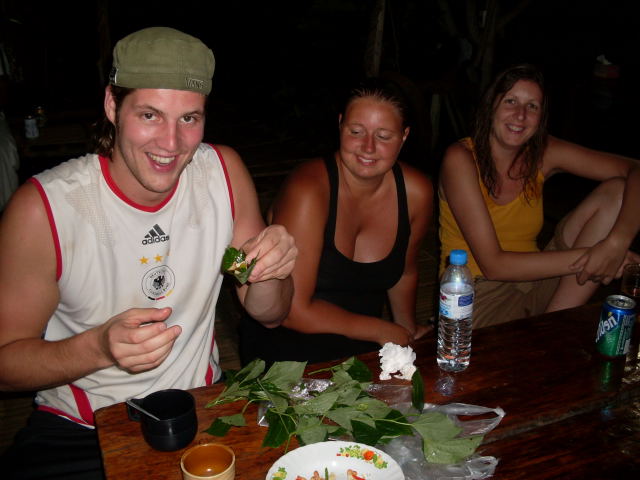 Piper sarmentosum Roxb. - Chaa phlu. Liści tego pieprzu używa się do zawijania przekąsek. Leaves of this wild pepper are used to make food parcels.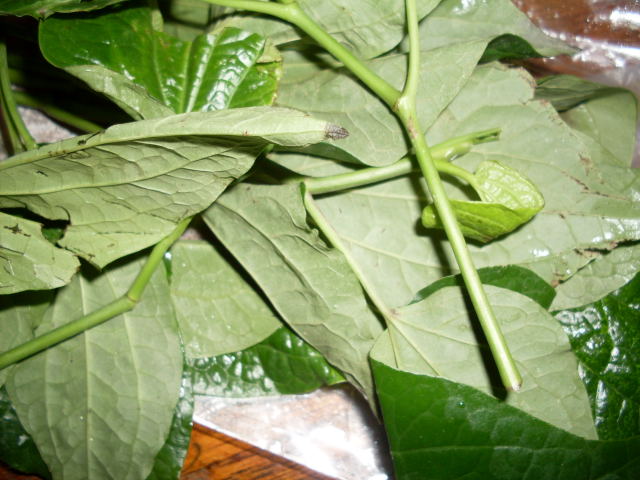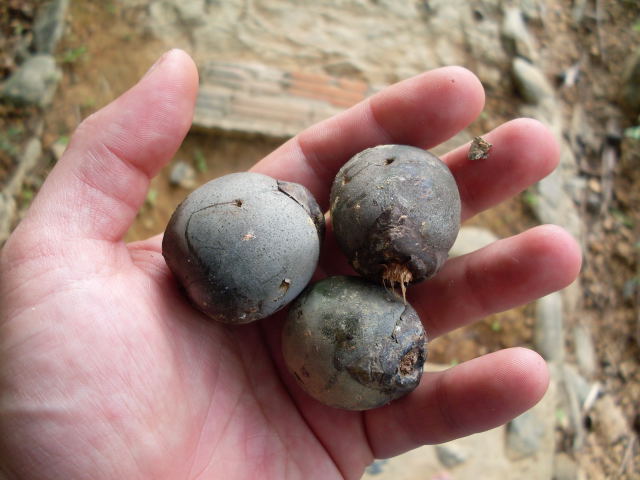 Owoce jakiejś palmy jadalne po ugotowaniu, park narodowy KhaSok. Some palm species with edible fruits (should be bopiled). Khaosok National Park.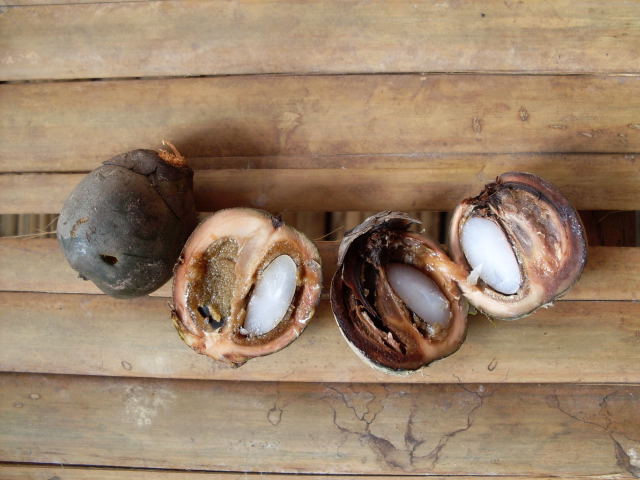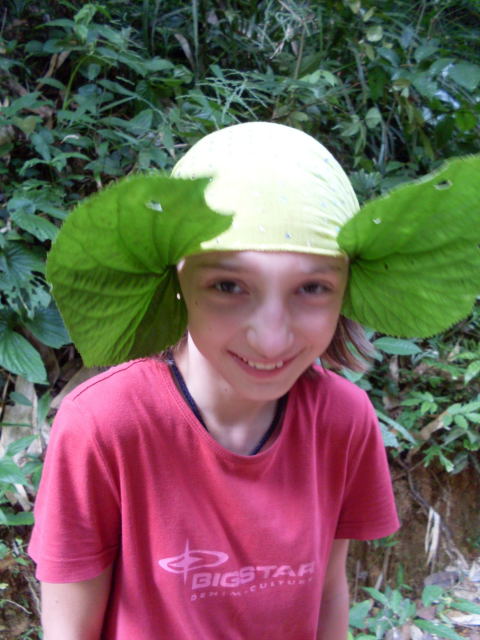 Jakiś gatunek begonii - dzikie warzywo używane przez mieszkańców okolic parku narodowego KhaoSok, nazywają je niedźwiedzie uszy. A wild vegetable of Khao Sok National Park, some Begonia sp., called 'bear ears' by the locals.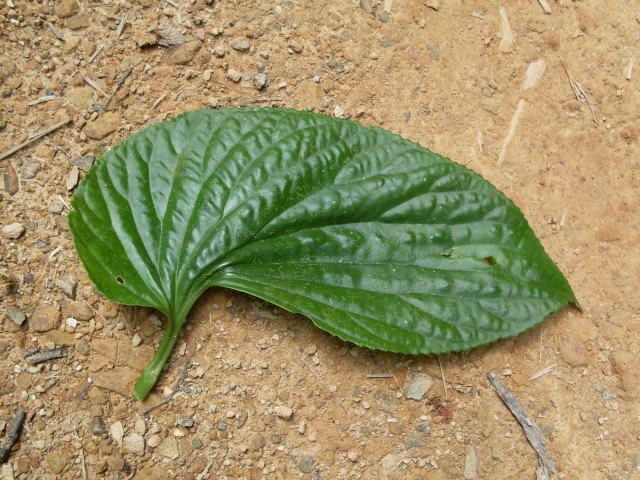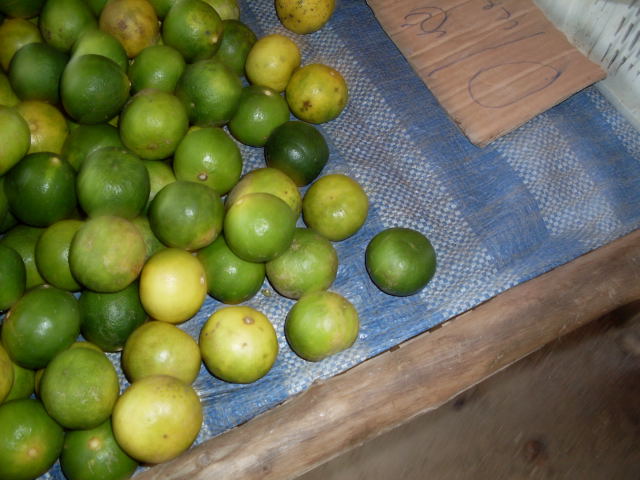 Limonki - popularny owoc - sok z owoców i liście używane jako składnik wielu potraw.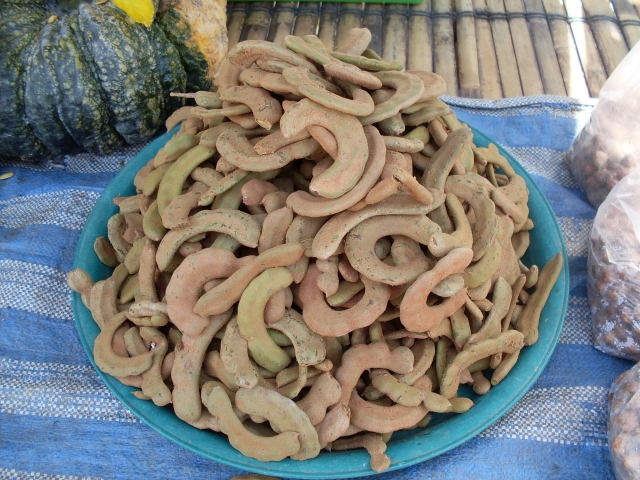 Owoce tamaryndowca (Tamarindus indica). Tamarind fruits.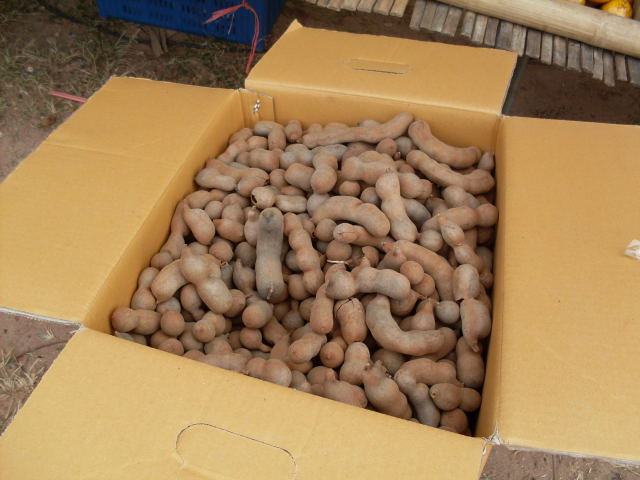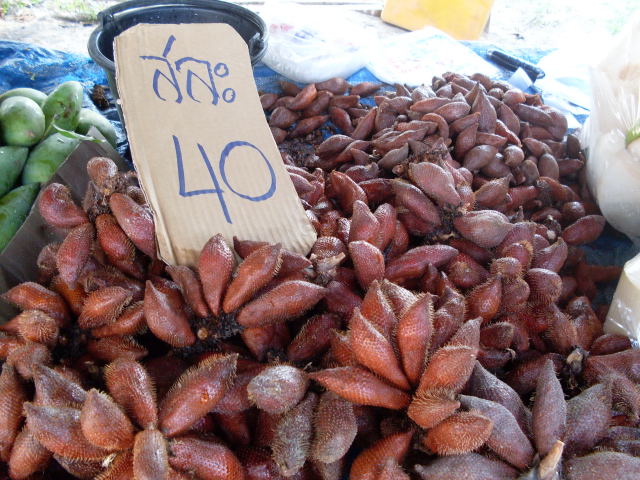 Owoce palmy salacca. Salacca palm fruits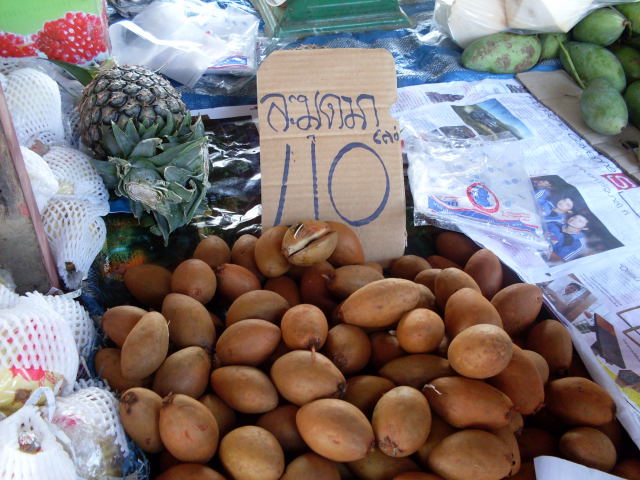 Owoce sapodilla. Sapodilla fruits.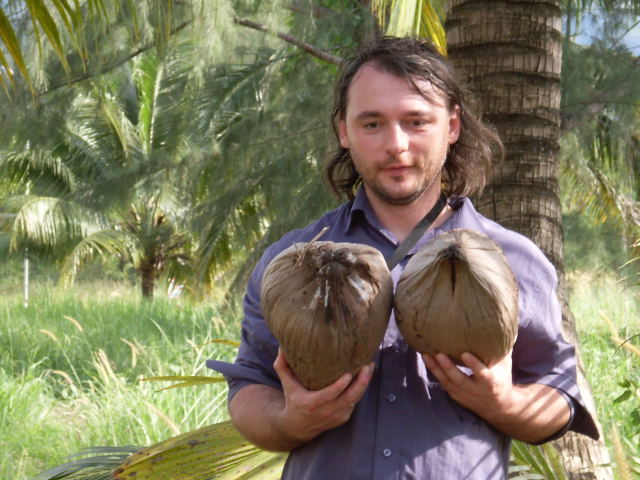 Oczywiście kokosy. Coconuts...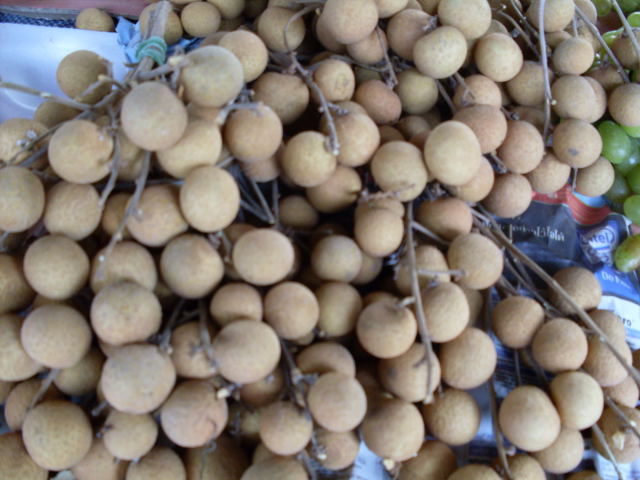 Longan.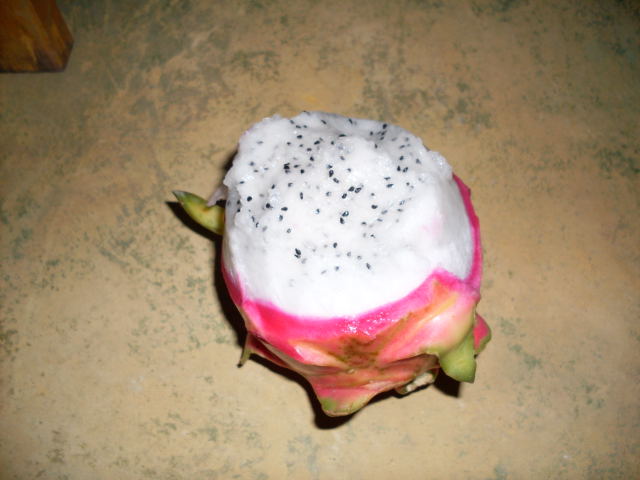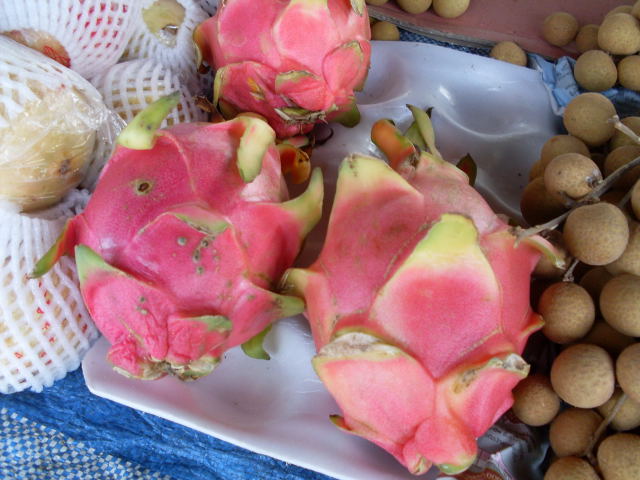 Dragon fruit, red pitaya (Hylocereus undatus)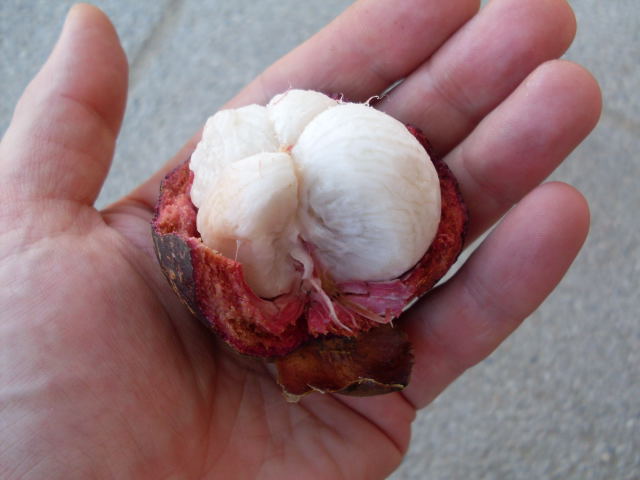 Mangostan. Mangosteen.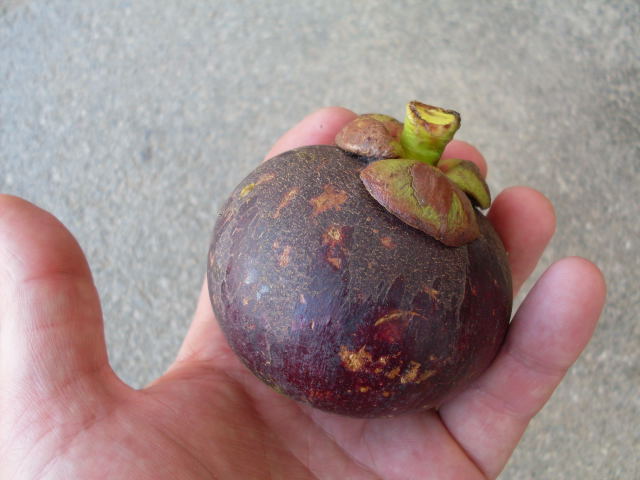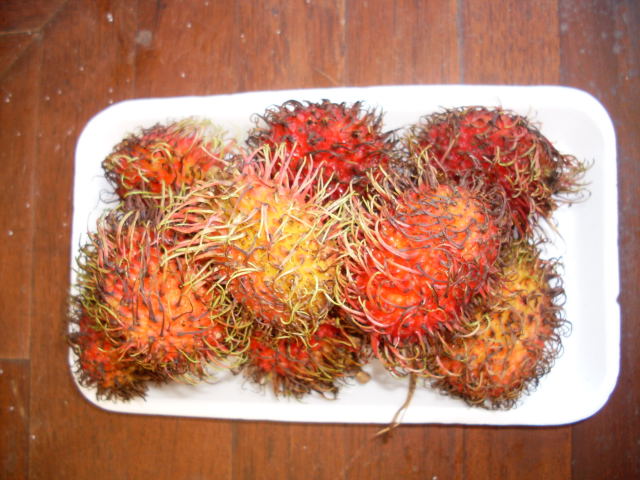 Rambutan .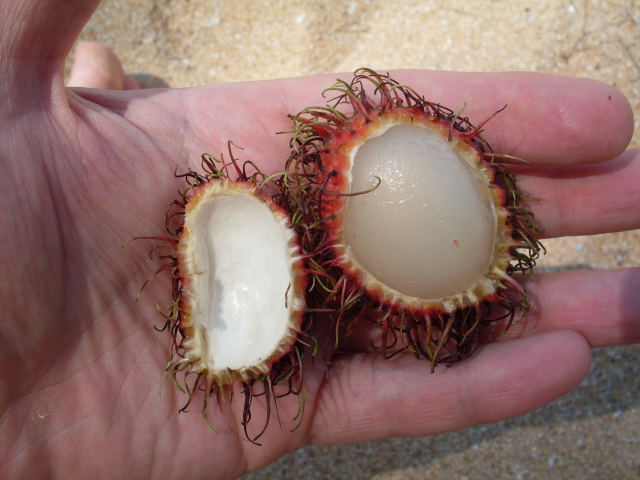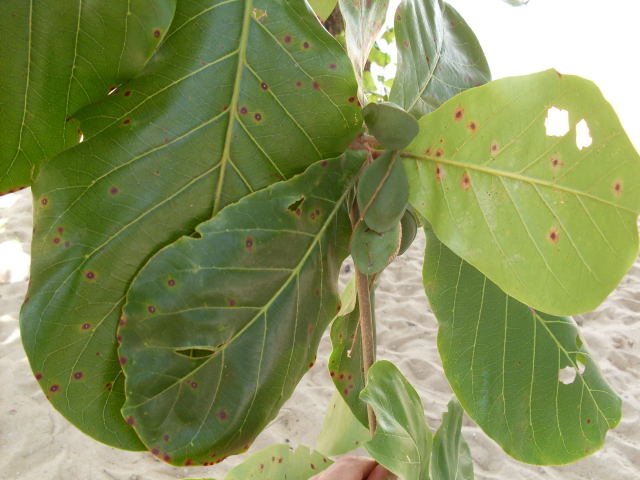 No 20 Owoce jadalne, podobne z wyglądu do mango, ale mniejsze. Powszechnie rosną na wybrzeżu Khao Lak. Terminalia catappa lub T. chebula. Terminalia catappa or T. chebula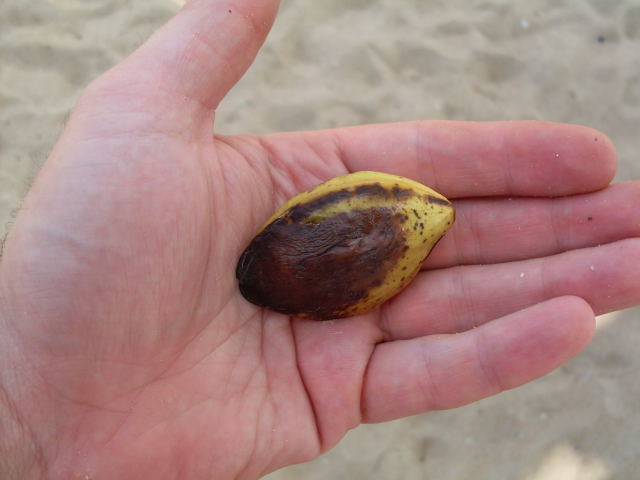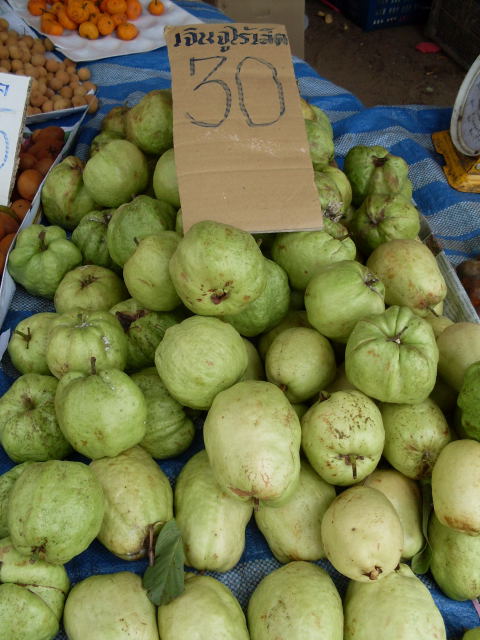 Guava (Psidium sp.)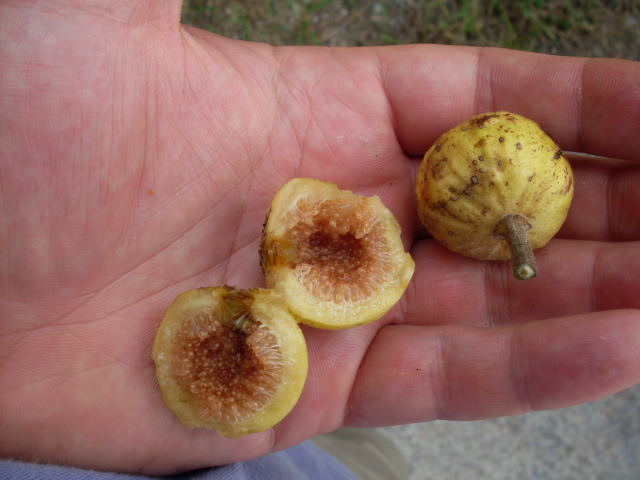 Jakieś dzikie figi. Some wild figs.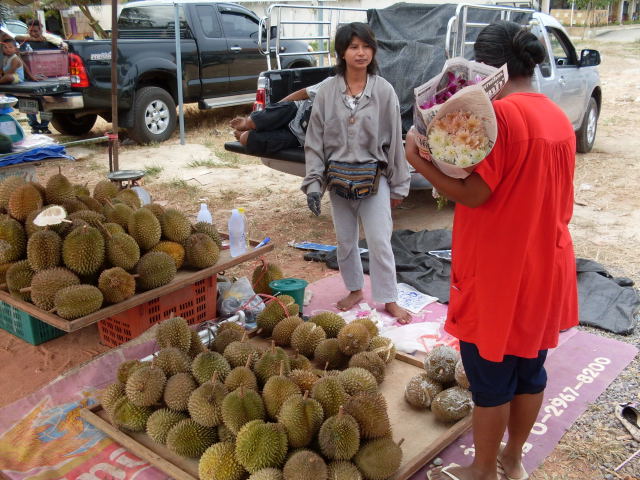 Durian.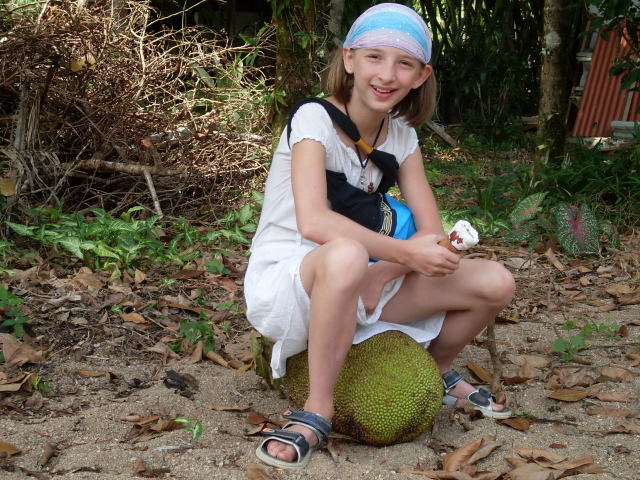 Jackfruit.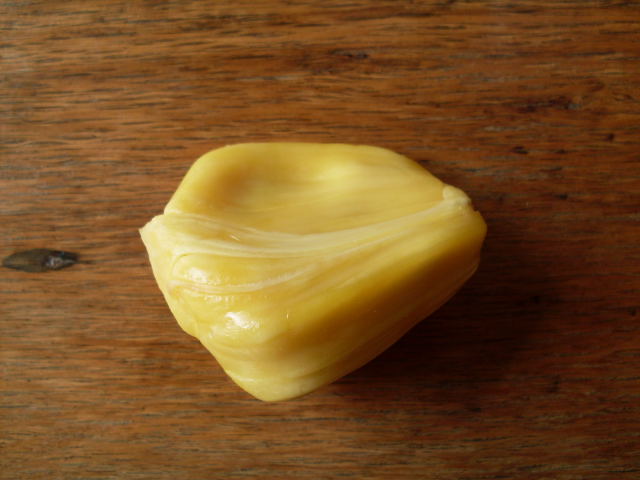 Jackfruits w środku. Jackfruit inside.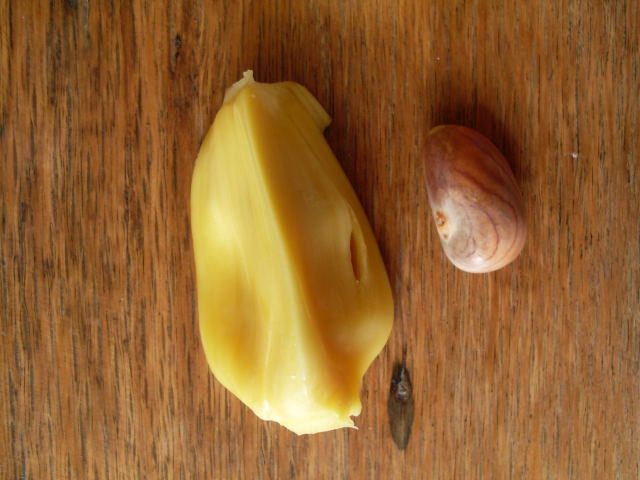 Także nasiona można jeść po ugotowaniu. Also seeds can be eaten after cooking.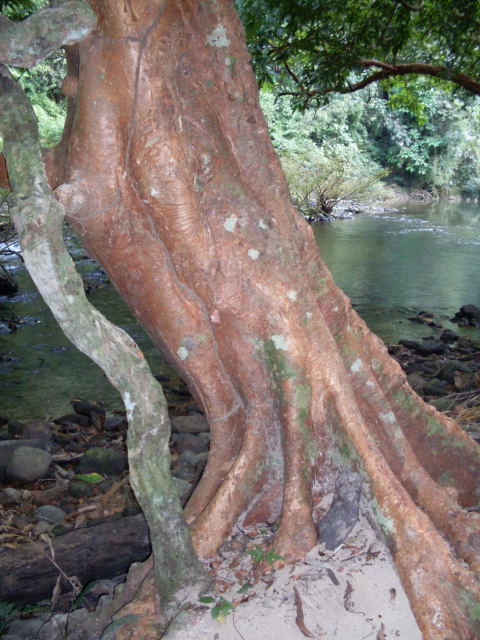 Dillenia indica. Owoc cierpki, jedzą go z solą lub w curry. Rośnie dziko. U góry - drzewo, u dołu - wooc. Dillenia indica. A wild sour fruit eaten with salt or in curries. Top - tree. Bottom - fruit.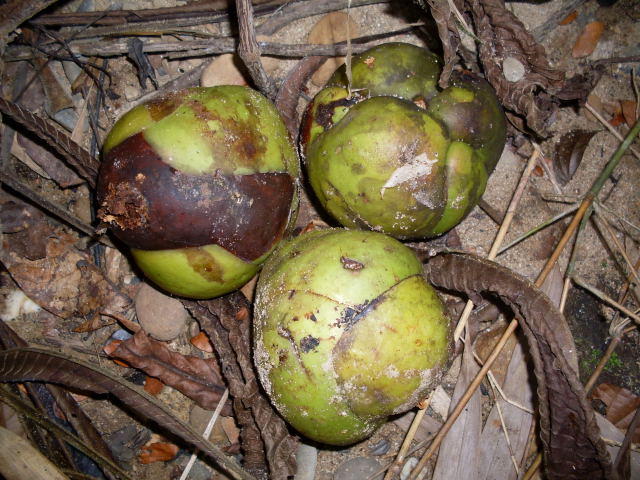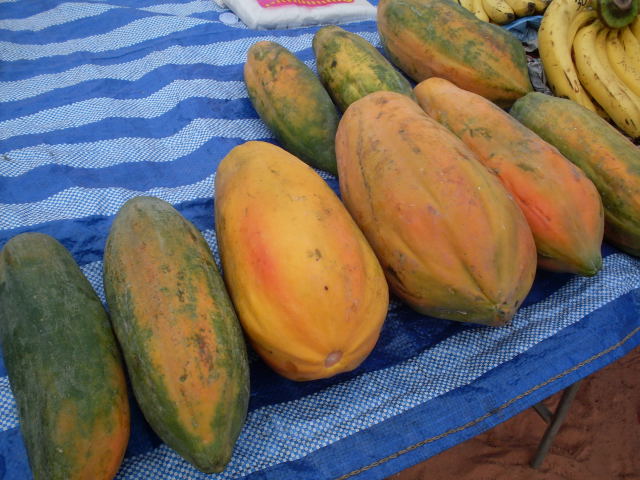 Papaya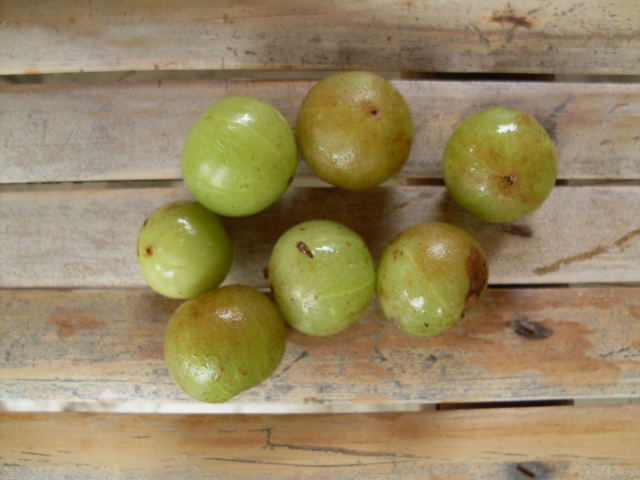 Liściokwiat garbnikowy. Bardzo gorzkie i kwaśne owoce, jedzą to z solą. Bitter and sour fruit, eaten with salt. Phylanthis emblica.